ABOUT: Many of our Naval Academy graduates have gone on to lead national and global teams, become innovators in their fields and lead impressive careers in the private sector following their military service. This conversation series allows our fellow shipmates to share their professional point of view and lessons they took from the Academy and how they applied them to their personal and professional lives. We hope you will join us for our next conversation!
Guest Speaker: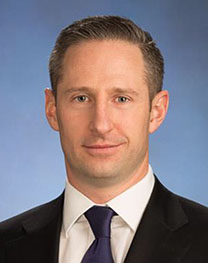 Joe Femenia '98
Managing Director and Global Head of Distressed Trading and Special Situations at Jefferies Joe Femenia is the Global Head of Distressed Trading and Special Situations at Jefferies, a diversified financial services company. In that capacity he manages approximately $450 million of capital for the firm and a team of 20 people globally. He joined Jefferies in 2016 as head of the U.S. Distressed and Special Situations Group. Prior to Jefferies, he spent nine years at Goldman Sachs where he was head of the U.S. Par and Distressed Loan trading group. Prior to Goldman Sachs, Femenia served as a U.S. Navy SEAL officer from 1998 to 2005 and completed six overseas tours of duty to Bosnia, Kosovo, Iraq and Afghanistan. Femenia graduated from Columbia Business School in 2007 with an MBA (value investing track) and the U.S. Naval Academy in 1998 with a degree in marine (nuclear) engineering.

CoNVERSATION Moderator: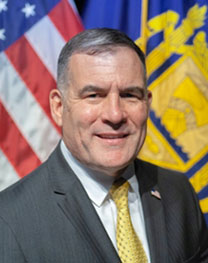 Dr. Joseph J. Thomas
Director, Stockdale Center for Ethical Leadership
Dr. Joseph J. Thomas is the director of the Naval Academy's Stockdale Center for Ethical Leadership, former Class of '61 Chair and Distinguished Professor of Leadership Education and ADM Jay Johnson Research Professor in Leadership and Ethics. He is also a past Director, John A. Lejeune Leadership Institute, Marine Corps University. As an active duty Marine his assignments included 1st and 2nd Marine Aircraft Wing, 26 Marine Expeditionary Unit (Special Operations Capable), Marine Aviation Weapons and Tactics Squadron 1, Assistant Professor of Naval Science at the University of Notre Dame, 6th Battalion Officer at the U.S. Naval Academy and Head of Training Management and Evaluation/Senior Education Officer at Marine Corps Training and Education Command. Dr. Thomas is a graduate of Marine Corps Command and Staff College and a past recipient of the MajGen Merrit A. Edson Leadership Award, the Marine Corps Association Research and Writing Award and the Col Donald Cook Distinguished Graduate Award of Command and Control Systems School.